WHO IS WHO IN THE RWANDA FPR INKOTANYI CRIMINAL RING: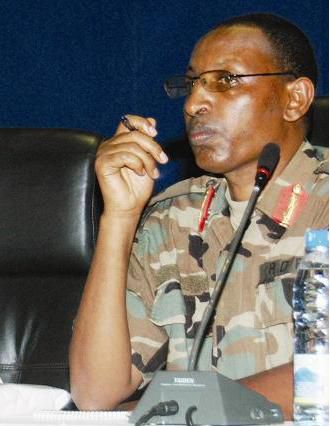 Jack Nziza
He is easily the most despised individual in the republic of Rwanda. He is particularly close to the first lady and labeled "her errand boy". It is through Jack Nziza that Jeannette rules, disposing of enemies, planting her extensive network of spies in all sectors of Rwandan society( business, health, Govt, army,…) is carried out by him. Although he is a brigadier General, he has no field experience and is reported to have failed his senior officer's course in Zambia. That does not stop him from being untouchable in the army and greatly feared by both his seniors and counterparts. Simply put, he runs the army on behalf of the Kagame's.
Jack has planted spies in all sectors henceforth:
·        POLICE : Faustin Kalisa
·        MEDIA : Patrice Mulama / Arthur Asiimwe
·        PARLIAMENT : Kaboneka Francis
·        JUSTICE: Ngoga Martin
·        ARMY: Dan Munyuza and Richard Rutatina
·         FOREIGN EMBASSIES: Amb. Eugene Kayihura
·       PRIVATE SECTOR: Notable among the hundreds of local businessmen, the ones that stand out most are Ntazinda, Rushema, Alexandre, Ngarambe…….
The twin to jack Nziza! He is the civilian equivalent. He makes or breaks careers in Rwanda at the behest of the Kagame's, while enriching himself in the process. All kinds of people are known to line up at his office to get a business/political blessing from him. You only have to look at his protégés in the places he has worked in….. RRA, Ministry of commerce, Ministry of Finance and now Ministry of local Govt. Each of these institutions have been staffed with brothers, in-laws, cousins, village friends etc linked to James Musoni/wife or Mrs. Kagame's.
He of the famous bombardier jets! He is fronted in many of the Kagame's businesses, but technically viewed as incompetent and inept hence him losing the high Ministerial profiles. He abandoned his wife in Scotland with 6 children and is known to be a lousy skirt chaser.
Former head of national security agency and another errand boy (he is known to detest his fellow errand boys as they all compete for the boss's ear). He has recently fallen from grace and banished to the RDF/RPF Archives department for failing to assassinate General Kayumba Nyamwasa in exile thus bursting his egotistical bubble. Shrewd, cunning and unashamedly devious, he has sacrificed many friends and foes alike on Kagame's sacrificial table. He could easily be described as a sex addict for the number of concubines he keeps! This is a man accustomed to taking big "commissions" in exchange for an audience with president kagame. One only need to see where he lives and the assets he has acquired both in Rwanda and South Africa. His wife represented a Kenyan cement factory "blue triangle" belonging to President Moi's son which was used to supply cement to build the current Ministry of Defence (also known as the Pentagon). Such is the extent of his corruption.
General Charles Kayonga.
Under his reign as chief of General staff, the army has waned in popularity, morale and lack of a direction as a result of his paralyzing fear of Kagame which has ruled him ineffective! The scandal involving his theft of hundreds of cattle belonging to the Bagogwe in congo will forever be his legacy and haunt him for a long time. A bogus General who does not get along with his counterparts because he is widely known to be a tattle-tale.!
General Fred Ibingira.
An unforgivable Illiterate who is also the eyes and ears for the Kagame's when it comes to idle gossip in the army. President Kagame put him on the commission to look into down-sizing land belonging to fellow officers not knowing that he was one of the biggest land holders(and still is).
After a brief recycling, she has been brought back from the dead. This is a woman whom the first lady had banished from presidential court but has shown the first couple that she is willing to help mend their image both at home and abroad. At the moment, she is in charge of winning Rwandan diaspora back to RPF before they can be swallowed by RNC, FDU-INKINGI and other opposition parties. She does this because Kagame can only trust her with RPF funds, used in buying loyalties.
Ambassador Eugene Gasana.
Eugene is Rwanda's ambassador to the UN based in New York. He is the Mr £1200 a night Mandarin Oriental's presidential suite while Kagame was attending the UN General Assembly in NYC early this year. Many Rwandans questioned his appointment because he has no academic background to back such an appointment let alone the experience. He is related to Jeannette Kagame and could be the only one they trusted to be their children's guardian. Given that, all the Kagame children go to school both in New York and Boston. Any other ambassador would not take lightly to being assigned baby-sitting duties other than Eugene and Agnes Gasana! He run down ALTEL before being deployed as Rwanda's ambassador to Germany, where he was in charge of purchasing the latest Mercedes Benz models in Kagame's presidential fleet and German custom designed suits and dresses for Mr and Mrs Kagame.
Richard is Madame Kagame's brother and front man for many of her businesses. She bought two of Rwanda's largest tea estates and Richard helps her run them.Richard Murefu is also the main fuel supplier to the Rwandan army and jet fuel supplier to the Civil Aviation Authority through Egide Gatera, a local business partner of Mrs Kagame. Richard Murefu also profits from the big Concerts staged by the Ministry of Youth through his events management company that he runs with another 'artsitic' brother, Mutsar.
Mutsar Murefu,
The elder brother of Mrs Kagame runs Contact FM, the biggest (richest)private radio station in Rwanda.
Pichette Sayinzoga.
Pichette is the permanent secretary in the Ministry of Finance and married to President Kagame's nephew Byusa. She was barely 30yrs of age with only two year's work experience before being thrust into the position of permanent secretary, Ministry of Finance. The presidents careless spending of the treasury was proving tricky with other Ministerial officials therefore the need of using a relative to safeguard his secret siphoning/spending. This lady is said to run the Ministry of Commerce indirectly.
Her husband, Byusa, the son of Paul Kagame's elder sister, is fronted by Kagame in many of his business dealings and offshore accounts that are registered in his names. He can be found at the Kigali Golf club playing golf all day…..
Pichette has an older sister working as the Human Resource manager in BANK POPULAIRE.Within this same bank, works another Jack Nziza operative called Allan Nsenga. These two people are used by the first lady to access funds for her various businesses because this bank has a huge cash flow.
This bank is used to deposit salaries of civil servants posted outside of Kigali and Rwandan peasantry.
The Sayinzoga girls
Are daughter's to Mzee Sayinzoga who is charged with the commission of Demobilization and integration of retired army servicemen. This commission receives huge funding from govt and private grants!
Innocent Gakwaya.
He heads the National social security Fund in charge of pensions. He is married to the Presidents sister, cathy. He contracted one of the first Lady's cousins to build the multi-million dollar headquarters of the NSSF.
Flora Nsinga.
She is married to Richard Murefu (brother to Jeannette Kagame) and heads the human resource department in Bank de Kigali (BK). She and the Managing Director James Gatera oversee Kagame's interests in the Bank as it is also used to fund many of their projects.
Agnes Binagwaho.
Agnes is the formidable Minister of Health and die-hard fan of Mrs Kagame.
It is through Dr Binagwaho that the first lady accesses donor funds from the GLOBAL Fund among many that the west grants Rwanda's Health sector. Agnes is famous for sidelining many of her counterparts that have stood in her way in the medical field. She is a trusted friend and confidante of Mrs Kagame.
Constance Mukayuhi Rwaka.
Constance is a member of parliament and serves on many of the parliamentary commissions entrusted with making sure all the Presidents bills are passed without objection. She is related to Jeannette Kagame by marriage. Constance is the widow of Ndoba's elder brother. Ndoba is the husband of Jeannette's late sister, Maggie.
Ruki and Diane Karusisi.
Ruki is one of President Kagame's trusted bodyguards after Willy Rwagasore. His sister Diane Karusisi Ngendo runs the country's National Statistics Agency. She is the one in charge of doctoring many figures to flatter the president's pet projects and exaggerated figures like the 7% economic growth or how business friendly Rwanda is.
Ines is chief of staff in the President's office. Known to be forthright and tactful, she came highly recommended from the Office of the first lady.
The Kalimba Family : Rosette, Armand, Basil and Linda Kalimba.
This family was Jeannette Kagame's adoptive family when she moved to Uganda before the RPF takeover in the 90′s. She lived with them in Jinja up to 1994, and she has rewarded them handsomely.
Until recently was the director of ORTPN (she was the miss Gorillas in the mist).
Armand Kalimba 
Fronted for the Kagame's in Rwanda metals, a company that traded in minerals and precious stones, like coltan from congo, until he was sent as the trade Representative in Rwanda's embassy in South Africa.
Basil Kalimba 
Represents Mrs. Kagame's interests in Real Estate in South Africa and Dubai.
Linda Kalimba 
Works as the trade Representative in the Rwanda embassy in London after a long stint as a legal secretary in Rwanda Revenue Authority.
The Kayihura Family.
This is another adoptive family to the first lady of Rwanda when she moved to Kenya from Burundi before her marriage to Kagame.
She has rewarded them handsomely too.
Yolande Makolo,
The daughter to Speciose kayihura, is the Communications guru to the President
Yvonne Makolo,
Also daughter to Speciose Kayihura, is the Marketing Officer for MTN Rwanda(Kagame is the majority shareholder).
Vivian Kayitesi,
The daughter of Kaana Kayihura, is the head of Investments at Rwanda Development Board.
Teta Rutimirwa, Gasumuni'
Kayihura's daughter is the head of Urban Planning in the newly formed Lands office.
Rama and Minega Isibo,
Journalists at the New Times (Kagame's mouthpiece).
Ambassador Eugene Kayibura
Rwanda's ambassadoe to South Korea
In Part two we shall look at how the revolutionary fruits can be harvested.
Viva Revolution!
Habimana Albert
Facebook: Habimana Albert
Email: habimanaalbert@gmail.com
Skype: habimana.albert