DW- Bye bye, Kigali: off the air after an eventful 50 years!
Deutsche Welle shut down its last remaining relay station in Kigali, Rwanda, on March 28. We bid DW Kigali farewell with a peep at the station's photo album.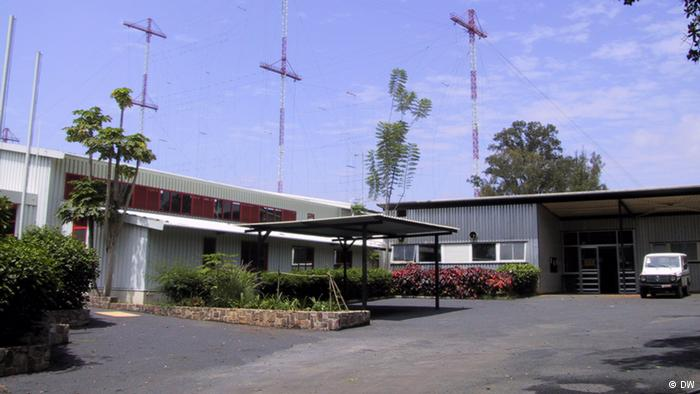 Bye bye, Kigali! In the hills of Kigali, at 1500 meters above sea level, stands DW's last relay station. It has been closed down and will be demolished. To those who worked here, Kigali will always remain home from home with both pleasant and painful memories.
The beginning
In 1963, the governments of the Federal Republic of Germany and Rwanda agreed on the establishment of the relay station in Kigali. Hans Otto Wesemann (left), DW's first director general, signed the memorandum of understanding with then Rwanda's President Gregoire Kayibanda (right). The relay station would receive radio signals from Cologne and then retransmit them across Africa.
Construction and demolition
The relay station was built on a 75 hectare (185 acre) site outside Kigali. There was accomodation for staff as well as antenna masts and buildings for the transmitter and a studio complex. Kigali has grown and has more than a million inhabitants. The relay station compound is no longer outside the city but is now part of it.
'Heard in neigboring countries'
"Everyone at DW knows that a relay station is under construction in Africa. But not everybody knows where and how it is being built," said a DW staff magazine in 1964. "The station with 600 watts can broadcast throughout Rwanda during the day and heard in neighboring countries like Congo, Uganda, Tanganyika (now Tanzania) and Kenya ."
With its new relay station, DW was able to reach many more short wave listeners in Africa. More than a dozen DW engineers and around 100 local staff lived and worked on the station premises. It was not just transmitter site, it was home.
West German foreign minister's visit
High-ranking German officials were often seen in Kigali. Some even preferred the station - with its expanse of greenery - to the embassy building in the city. Whoever worked at the relay station got the opportunity to meet high-ranking officials and guests from Germany. In 1978, the former West German Foreign Minister and Vice Chancellor Hans-Dietrich Genscher (center) visited the station.
"The German pub at the relay station was very popular," recalls Gerd Höfs (second from left). He worked at the station as an engineer in the 1970s and 80s. The pub no longer exists. Gerd Höfs still works for DW in Bonn.
The relay station also experienced the darkest chapter in Rwandan history. During the 1994 genocide up to one million people were killed within 100 days. The victims included Rwandan DW staff.
The genocide left deep scars on Rwanda. Life at the relay station was also never the same again. Four DW German staff returned to the station in August 1994. 68 locally employed staff also went back to work there.
A visit by the Federal President
In 2008, then German President Horst Köhler (right) toured DW's transmitter complex in Kigali. A passionate supporter of Africa, Köhler eager to draw attention to the opportunities the continent could offer ts people